Bugatti Chiron 2019/ Credit: Internet
They're the pinnacle of engineering, but what goes into the greatest hypercars ever built?
Our top 5 reveals all.
Unless you're at a car show, the only time you're ever likely to see a hypercar in the wild will be on the streets of Monaco or Dubai. But these cars have a far greater reach than they ever used to, as they have moved from the bedroom walls of young petrolheads to their games consoles instead, where instant access means fans can experience their appeal without ever having to get near one in real life.
With hypercar prices climbing well into seven figures, the exclusivity they offer means they're hugely appealing to the mega-rich. So if you ever get the opportunity to drive or ride in one, it's something you should grab, no matter how cynical you might feel about them.
Hypercars push the envelope of road car development. Some of them come with Formula One-inspired tech, and others even go beyond that, with power outputs in excess of 1,000bhp. These figures are achieved with advanced engineering using the latest exotic materials that even make carbon fiber look ordinary, and established companies such as McLaren, Porsche, Aston Martin, Ferrari, and Bugatti are all in the business of hyper performance, hyper-expensive cars.
However, the past few years have seen a number of smaller-scale manufacturers joining the hypercar ranks, and names such as Koenigsegg, Pagani, and Zenvo now line up in the world of the most expensive and exclusive cars on sale. These models all feature petrol power as part of their make-up, but other companies such as Rimac and Nio have gone for the all-electric route to deliver stupendous performance.
The Best Supercars
One thing all of these cars have in common, though, is customer demand. With multi-millionaires looking to flash their wealth with a stylish set of wheels that nobody else has, the demand for hypercars shows no sign of abating. These buyers associate exclusivity with collectability, but whether that's true will only be proved further down the line, when a company has gained a strong enough reputation for their cars to be considered classic. That will be easier for established marques such as Ferrari, Porsche and Mercedes to achieve, but it remains to be seen if a more niche manufacturer has the same standing in a few years.
Best hypercars 2019


1.

McLaren F1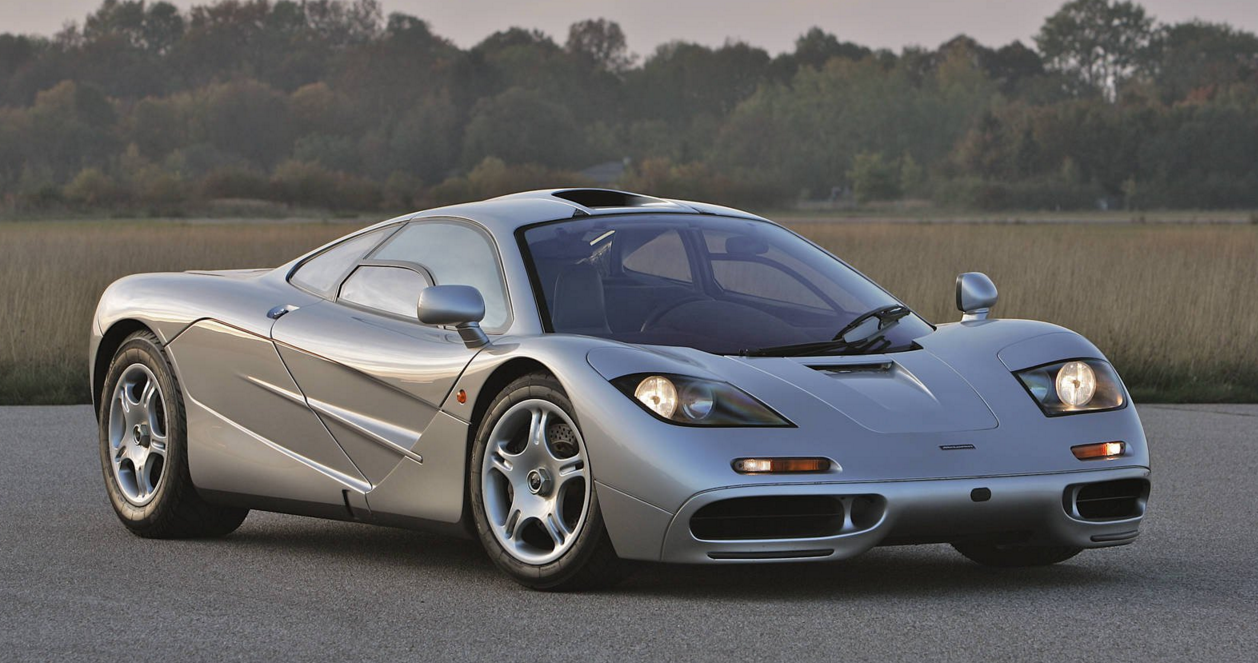 The car that created the hypercar class, the McLaren F1 remains a hard act to beat
When Formula 1 racing car designer Gordon Murray wanted to build the ultimate road car, his boss Ron Dennis at

McLaren

gave free rein to the project. The result was the groundbreaking McLaren F1 that arrived in 1992 and was the first production car to feature a carbon fiber monocoque chassis.
The McLaren F1 was also notable for its three-seater layout with the central driving position, and for using gold as engine bay insulation - although the few hundred pounds worths of precious metal paled into significance against the car's half-a-million-pound price tag.
That doesn't sound a lot when you consider top modern hypercars seldom cost less than £1m, but at the time it was more than double the price of the Bugatti EB110 GT and a fair chunk more than

Jaguar's XJ220

. On the road, the McLaren F1 blew both into the weeds. It was an engineering feat that completely moved the goalposts for hypercars and set a new benchmark for performance.
Its 6.1-liter V12 engine makes 618bhp and took the McLaren F1 to an officially timed 243mph in March 1998. It was a new world record that wasn't beaten until the
Bugatti Veyron
cracked 253mph in 2005.
How do you follow the Bugatti Veyron? With the Bugatti Chiron of course
According to Bugatti, the Chiron is 'the world's most powerful, fastest, most luxurious and most exclusive production super sports car'… but we're sure they won't mind if we call it a hypercar!
It's not exactly a 'clean sheet' replacement for the Veyron, as it carries over its basic architecture and a W16 engine. The wheelbase is the same, but the styling is new and the Chiron is a few cms longer and wider than its predecessor. The engine has been completely reworked, however, and produces a staggering 1,500bhp and 1,600Nm of torque, which Bugatti says is a 25 percent increase in performance.
Four turbochargers are configured to ensure peak torque is delivered from 2,000rpm all the way to 6,000rpm – and the car reportedly has a top speed of around 288mph, although it's limited to 261mph on customer cars. But with a price tag of almost £2 million, and that's without going nuts on the options list, would you accept anything less than blistering performance?
3. Mercedes-AMG Project ONE
Mercedes are one of the very few companies who could if they wanted to make an F1 car for the road. Luckily, they very much do want to...
Set for production in 2019, the Mercedes

-AMG Project One is a concept first revealed at the

Frankfurt Motor Show

. The German hypercar, pegged to cost around £2.4 million, uses a powertrain that takes engineering from contemporary F1 cars. Hidden under the bodywork is a 1.6-liter turbocharged

hybrid

V6, that is built here in the UK no less.
Power output is to be 986bhp, which is roughly the same as having 29 classic minis powering you down the road. However, the redline is reported to be set at 11,000rpm (4,000 down on the F1 car limit), giving it one of the highest redlines on the open road.
As for the rest of the performance, the top speed is to be in the region of 217mph, and even though there has been no confirmation of 0-60mph time, Mercedes is claiming that the Project ONE will get from 0-124mph in less than six seconds.
The car uses four electric motors to help deliver its performance, with one forming part of the electronic turbocharger assembly (designed to reduce lag), while another is hooked up directly to the crankcase to supplement the output of the engine output.
Named after legendary Formula 1 driver Ayrton Senna, this extremely track-focused hypercar is McLaren's most calculated masterpiece. Its unmistakable appearance (see prehistoric shark) is dominated by numerous air intakes and aerodynamic addendum that create incredible downforce. Combine that with the extensive use of lightweight carbon fiber throughout and an insanely powerful engine and you have the recipe for a vehicle that goes like a rocket and turns like a ballerina. That ladies and gentlemen will merely scratch the surface of the awe-inspiring 2019 McLaren Senna.
The Senna is largely based on the 720S, using a modified version of its carbon fiber monocoque and engine. The Senna is powered by a modified version of the 720S' 3,994 ccs (4.0 L; 243.7 cu in) twin-turbocharged V8 engine codenamed the
M840TR
. It utilizes a seven-speed dual-clutch transmission that delivers all 800 PS (588 kW; 789 hp) at 7,250 rpm and 590 lb-ft (800 Nm) of torque at 5,500 rpm to the rear wheels. Unlike the previous offering in the Ultimate Series, the P1, the Senna does not use an electric motor in favor of its low claimed dry weight of 1,198 kg (2,641 lb), which allows for a maximum power-to-weight ratio of 667 PS (491 kW; 658 hp) per ton.
The Senna uses a new generation of Brembo's carbon ceramic brakes, containing a compound that has three and a half times better thermal conductivity than before, making the brakes smaller and lighter. It also features a new set of lightweight center-lock alloy wheels designed for Pirelli P-Zero Trofeo R tires. Its central design is a new generation of McLaren's carbon fiber monocoque named

MonoCage III

, which contributes to the car's relatively low dry weight. The car utilizes a top mounted (hot-vee) Inconel-titanium exhaust system with three outlet pipes in order for a more aggressive exhaust note and engine emissions.

The interior consists largely of exposed carbon fiber and Alcantara, with seats that can be upholstered in Alcantara or leather, depending on the customer's preference.

Behind the two seats is room large enough for two helmets and race suits, reflecting the car's minimalist and track focused design. The car utilizes McLaren's hydraulic

RaceActive Chassis Control II (RCC II)

suspension along with double-wishbone control
arms.
Swedish hypercar brand Koenigsegg does things its own way and its own way is very, very fast
When the Koenigsegg Agera was introduced in 2010, the Swedish car company had already made a name for itself with its limited volume CC series introduced a decade earlier. While Koenigsegg may not have the illustrious history of many of its hypercar rivals, it definitely has a spec-sheet to make up for it.
Power comes from a 5.0-liter twin turbo V8 designed in-house (rival Pagani uses Mercedes-AMG engines), which makes 1,380bhp and a maximum torque figure of 1280Nm. Weighing around 1,400kgs, achieved in part due to use of carbon fiber, the Agera RS has claimed the world record for the fastest 0-249-0mph time, taking a ridiculous 36.44 seconds – over five seconds faster than the previous record set by the Bugatti Chiron.
The Agera RS also claimed the record for highest top speed towards the end of 2017, reaching the dizzying heights of 277.9mph, 12mph more than the existing record held by the Bugatti Veyron Super Sport – one imagines the team at Koenigsegg are no longer on Bugatti's Christmas card list... Interestingly, Koenigsegg offers a 1Megawatt engine option, which is enough to power three Porsche 911 Carrera GTS' and have seven Watts spare. It doesn't matter if you have ever seen one or not, Koenigsegg produces some seriously quick cars.