SEMA 2019 is just around the corner and Hennessey doesn't appear to have the patience to wait till the day the gates open. The Texas-based tuning shop has released the first batch of images of their SEMA superstar – the Hennessey Maximus. That's a Jeep Gladiator which has 1,000 hp of power to deploy.
Throwing out the 3.6-liter Pentastar V6 engine and shoving in a 6.2-liter Hellcat V8 engine with an HPE1000 level tuning and an 8-speed automatic transmission, the Hennessey Maximus is perhaps the most insane off-roader to come out of the shop.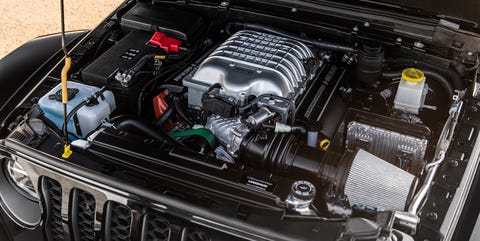 Boasting a massive 1,000 hp power output and 933 lb-ft torque, the Maximus Jeep Gladiator is also one bloody fast high-rider with 0-60 mph time of 3.9 seconds. While it may not be able to clock that on a broken surface, the 6-inch lift kit from King, heavy-duty off-road axles, Dana 60 front and rear differentials, and heavy-duty front & rear driveshafts will ensure that you come out in one piece, standing on those aluminum alloys shod with BFGoodrich off-road rubber.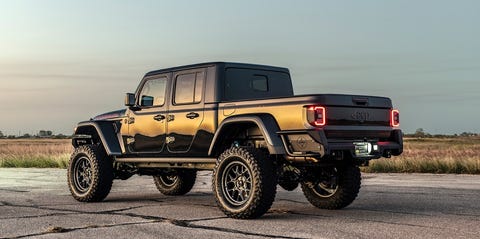 The package is intimidating with custom bumpers, LED auxiliary lamps, running boards that drop down and that tall stance that will easily bully other cars on the streets. The interior gets a rich custom leather treatment so that you can savor that feeling in absolute comfort.
Hennessey Maximus Jeep Gladiator
What's the price? That'll be $225,000 and that's the base price before you start opting for the additional good stuff in the options menu. And only 24 of its kind will be built by Hennessey in the limited production run.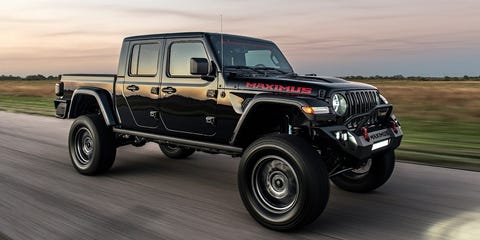 The Hennessey Maximus Jeep Gladiator will be unveiled to the public on Wednesday, November 6, 2019, at the 2019 SEMA Show in Las Vegas at the Shell "Pioneering Performance" Experience (booth #60003). The badass truck can be ordered directly from Hennessey or through authorized Jeep dealers throughout the USA.